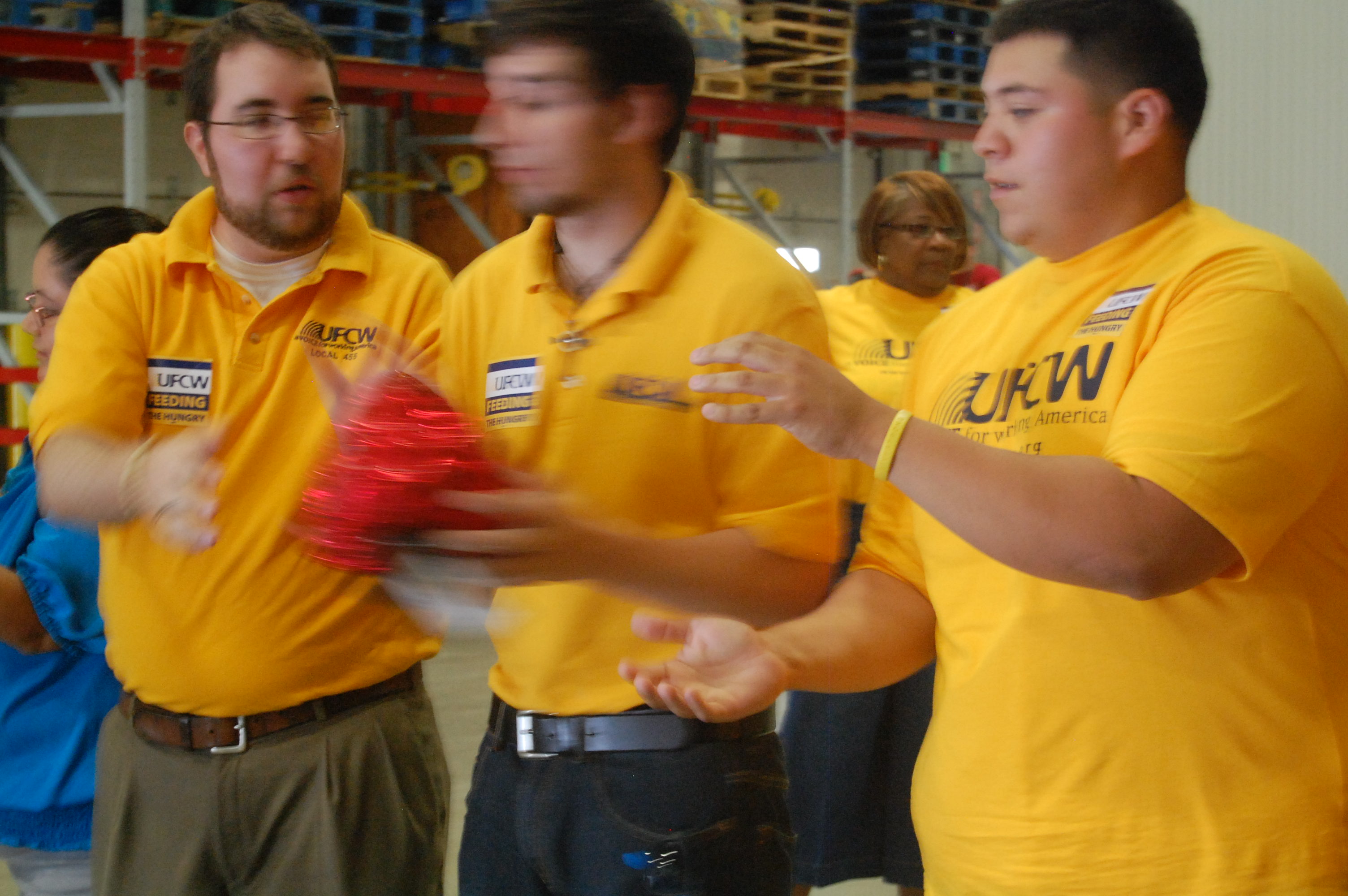 Real People. Real Action.
We're the United Food and Commercial Workers International (UFCW), a proud union family of 1.3 million hard-working men and women working together to provide a better life for our families and yours.
Give Back.
Our union family is building worker and community leaders that will meet the needs and aspirations of working families. We want to strengthen our communities to achieve economic, racial and social justice.
Speak Out.
Our members know that no one should struggle alone. It only takes one conversation to create lasting change that grows power for working people. Join us and amplify the voices of our membership.
Take a Stand.
People who are a part of UFCW have joined together to take back control of their lives. We are committed to creating a diverse, inclusive democracy for our communities and workplaces.
August 4, 2003
Workers at the Tyson Foods plant in Jefferson, Wisc., set up picket lines after overwhelmingly rejecting a company offer that would cut wages and risk the loss of medical treatment for workers' families.
For a company whose motto is:""It's What Your Family Deserves,"" no working family—and no community—deserves the attack on living standards the giant meat processor has launched against workers at its Jefferson plant.
""Tyson's proposal would devastate my family,"" said UFCW Local 538 member, John Hernandez, a 25-year plant employee. ""The company wants to cut our wages and increase the cost of our health care coverage. Our families can't live on that.""
The Jefferson plant is profitable. The facility is part of Tyson's prepared foods division which posted a 4.2% profit for first quarter 2003.
The company's contract offer seeks wholesale cuts in workers pay and benefits including:
A pay cut of 73 cents an hour, on average, as well as a wage freeze for four years.
An increase in health care coverage rates up to $40 a week, as well as higher deductibles and out of pocket expenses which could total $4600 a year for basic family coverage.
A freeze on pension benefits for current workers and elimination of pension benefits for new hires.
A 50% reduction in sick leave.
A two week cut in vacation benefits.
""Tyson's proposal comes out of greed, not need,"" says Kevin Williamson, UFCW International Vice President and Region 6 Director. ""The plant has operated 100 years without a strike, and now Tyson is attempting to repay a loyal and experienced workforce by destroying their living standards.""
Contract negotiations have taken place over the last eight months. In January the Company gave the union a 30-day notice saying it would terminate the current extended contract at midnight on February 25.
UFCW Local 538 has filed an unfair labor practice charge with the National Labor Relations Board, charging the company with bargaining in bad faith.
Tyson's Jefferson plant, employing 470 workers, produces pepperoni for Tombstone, DiGiorno, Domino"s and Jack's pizzas, as well as hams, ring bologna, and hot dogs.
""This company forced this strike on us,"" said Mike Rice, UFCW Local 538 Business Agent. ""We're fighting for our families, our futures, and our community. We're on the picket line today and we'll be here for however long it takes to reach a fair settlement our members' families deserve.""