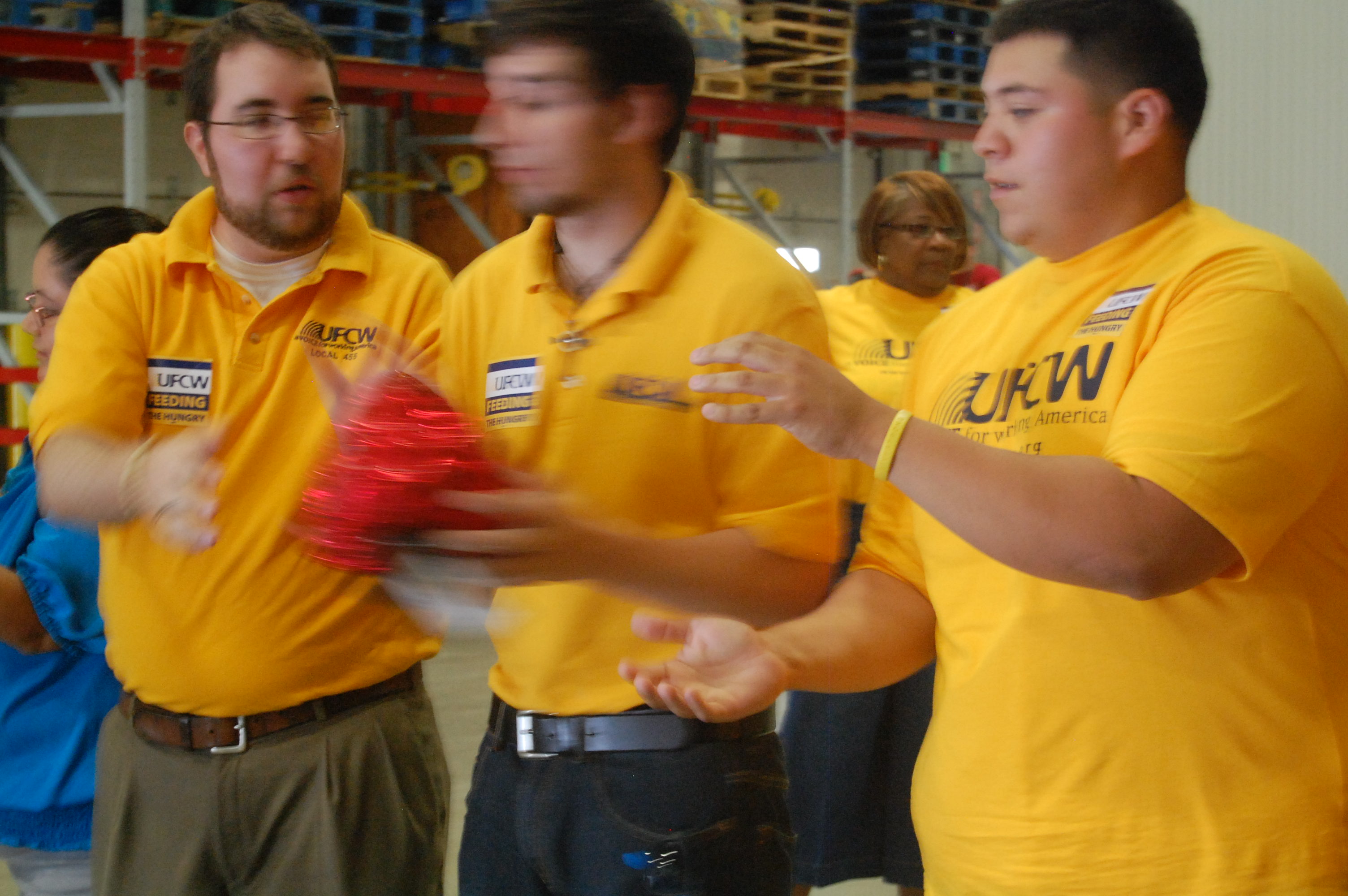 Real People. Real Action.
We're the United Food and Commercial Workers International (UFCW), a proud union family of 1.3 million hard-working men and women working together to provide a better life for our families and yours.
Give Back.
Our union family is building worker and community leaders that will meet the needs and aspirations of working families. We want to strengthen our communities to achieve economic, racial and social justice.
Speak Out.
Our members know that no one should struggle alone. It only takes one conversation to create lasting change that grows power for working people. Join us and amplify the voices of our membership.
Take a Stand.
People who are a part of UFCW have joined together to take back control of their lives. We are committed to creating a diverse, inclusive democracy for our communities and workplaces.
August 4, 2003
Company Settles Second Case in Georgia; Faces New Complaint in Ft. Myers
(Orlando, Florida) – After just one week on the job, Wal-Mart cashier Cherie Beck was terminated when she complained on behalf of herself and her co-workers to her supervisor about constantly changing schedules that made managing her life nearly impossible. Beck was then fired for what the company called ""hostile behavior."" Beck was singled out once she voiced her concerns about workplace conditions. The National Labor Relations Act protects the right of workers like Beck to engage in that type of behavior, called ""concerted activity.""
In an unusual move, Wal-Mart settled the case, brought by the United Food and Commercial Workers Union on behalf of Beck. Beck has received back pay plus interest, totaling nearly $7,000. The decision to settle came as a surprise, as Wal-Mart historically has resisted settlements.
""Wal-Mart knows what it did was wrong, and that is what they are paying for,"" says UFCW Executive Vice President Mike Leonard. ""Beck's back pay is important because every lawyer who has battled against Wal-Mart knows that it hates to settle.""
In addition to paying Beck for lost wages, Wal-Mart is required to post a notice of the settlement in the East Colonial Drive store where Beck worked. The notice clearly states that Wal-Mart will not threaten associates, deny the right to organize, or engage in surveillance of workers, among other things. The notice is a major step in the efforts to inform Wal-Mart workers of their legal rights at work, and marks the second time that Wal-Mart has been directed to post such a notice in this store.
This posting lets workers know that Wal-Mart will not threaten associates who engage in ""concerted activity"", will permit associates to have a representative accompany them in any investigatory meetings where the associate believes discipline might result, won't require associates to report their contacts with unions, and won't discipline or fire workers who engage in concerted activity.
""For years, Wal-Mart has tried to keep workers from knowing what their rights really are. Now, workers are finally getting the opportunity to find out what they can do at work,"" says Leonard.
Wal-Mart has also recently settled in another case in Villa Rica, Ga., in which the UFCW charged that Wal-Mart: threatened employees for union activity, spied on them, denied workers the right to solicit for the union on their own time, denied a co-worker witness at a disciplinary meeting, and disciplined a worker for asking for a witness. The company has agreed to display a notice in the Villa Rica Wal-Mart similar to that posted in the Orlando store. Specifically, this notice outlines federal laws protecting workers' right to organize, as well as a statement that Wal-Mart will not discipline workers for exercising their rights.
A recent complaint issued by the National Labor Relations Board on behalf of Dana Maillioux, a Wal-Mart worker in Ft. Myers, Fla., also cites unlawful termination for ""concerted activity."" While Wal-Mart has claimed to refrain from such tactics in stores where charges have been filed, the company continues to fire workers who discuss workplace conditions with their co-workers.
The United Food and Commercial Workers International Union (UFCW) is North America's largest organization of retail workers. With 1.4 million members in local stores and supermarkets across the United States, the UFCW is America's Neighborhood Union. The UFCW remains committed to helping Wal-Mart workers have a voice on the job.