September 5, 2017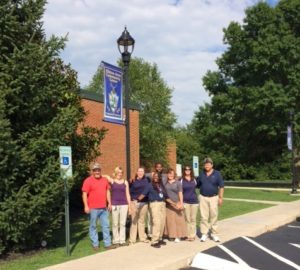 Recently, 28 workers at SBM Management Services in Elkton, Va., voted to join ICWUC/UFCW Local 94C by an overwhelming margin. SBM Management Services is a subcontractor at the Merck plant in the area, and the workers clean many parts of the facility, as well as the laboratory glassware.
The SBM Management Services workers wanted a voice in the workplace, as well as an end to "at will" employment. They also wanted the benefits and protections that ICWUC/UFCW Local 94C can offer. ICWUC/UFCW Local 94C Vice President Matt Dean and President Ricky Breeden were instrumental in this victory for these workers, with the support of Council Vice President Gerry Setley.
August 28, 2017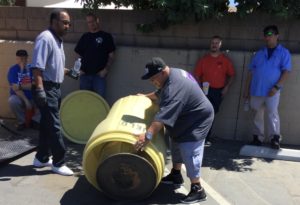 Representatives from UFCW Locals 7, 1167 and 1428 attended a chemical emergency response training sponsored by the UFCW Occupational Safety and Health (OSH) Office and the International Chemical Workers Union Council (ICWUC) of the UFCW during the week of August 7. The training took place at UFCW Local 324's office in Buena Park, Calif. 
The class was designed to teach union staff how to identify and respond to chemical hazards. Class participants learned about hazardous chemicals, respiratory protection, personal protective equipment, toxicology, and OSHA regulations. Class participants also took part in a simulated hazardous chemical release and containment exercise, donning a self-contained breathing apparatus and other personal protective equipment, and putting into practice what they learned in the classroom.
This training is part of a long-standing partnership between the UFCW OSH Office and ICWUC. UFCW local union representatives and stewards throughout the country are recruited to attend chemical emergency response trainings, which are usually held at ICWUC's training center in Cincinnati, Ohio. The program is funded with grants, which pay for participants' travel and lodging. The UFCW OSH offi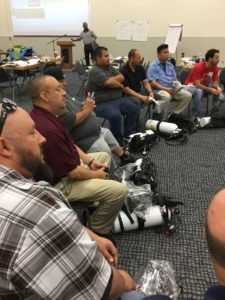 ce coordinates the program, which has provided training for hundreds of members and UFCW staff over the past 20 years.    
A key feature of this program is the collaboration of eight unions, universities and worker organizations. During this particular week, UFCW representatives were in class with members of the Coalition of Black Trade Unionists, American Federation of Government Employees, and ICWUC.   
"I think the chemical emergency response course that I attended was very interesting and informative," said Phillip Meza, a union representative for UFCW Local 1428. "I plan on taking the information I've learned and tools I was given to do better site visits with our membership to ensure their safety when dealing with chemicals. It has also given me the ability to identify potential hazards that I can warn members about. For organizing purposes, I feel the information we learned will also help us to mobilize workers who are working under unsafe conditions and not being provided proper personal protection equipment."

The program is ongoing throughout the year. If your local is interested in attending a training, contact Fernando Tapia, safety and health program coordinator, UFCW OSH Office, at ftapia@ufcw.org.
August 14, 2017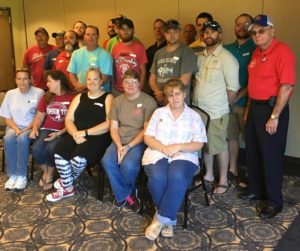 On August 5, the International Chemical Workers Union Council (ICWUC) of the UFCW held an officer training and steward class in Scottsboro, Ala., for 21 officers and stewards at UFCW Local 504T. The UFCW Local 504T officers and stewards are employed at Lozier Corporation in Scottsboro, and work in the maintenance, production and warehouse divisions producing metal and wood shelves and their braces. UFCW Local 504T's current contract with Lozier Corporation covers 325 members.
Participants learned about the duties of officers and shop stewards, as well as the duties of the organizing and safety committees. The training session also provided participants with an overview of health and safety issues officers and stewards may face in the workplace. The training session was hosted by UFCW Local 504T, and ICWUC Secretary-Treasurer and Regional Director Neal Dillard and ICWUC Recorder Chuck Denny served as the instructors.