News and Updates

Cannabis
September 22, 2016
[aesop_image img="http://www.ufcw.org/wp-content/blogs.dir/56/files/2016/09/Vireo-Health-Workers-RWDSU-Local-338.jpg" align="left" lightbox="on" captionposition="left"]
[aesop_quote type="pull" background="#ffffff" text="#808080″ width="30%" align="right" size="3″ quote="As someone starting a new family, it's great to have the security and stability of a union contract." cite="-Vireo Cultivator Matt Denten" parallax="on" direction="left"]
In September, two years after medical marijuana was passed into law in New York, workers at Vireo Health ratified their first RWDSU contract. The Vireo Health workers are members of RWDSU Local 338, and this union contract is the first in the history of New York state's new medical cannabis industry.
The new three-year contract covers workers at Vireo Health's cultivation and manufacturing facility in Fulton County and at all four of its dispensaries located in Albany, Johnson City (Binghamton), Queens and White Plains. The contract will provide workers with paid time off for holidays, sick days, and vacation, as well as bereavement leave. Workers will receive retirement benefits through an annuity fund that the company is paying for. Full-time workers will also be receiving medical coverage for themselves and their families under the contract. The agreement also includes "profitability milestones" for workers that will kick in as the patient base increases and the company becomes more successful.
"As someone starting a new family, it's great to have the security and stability of a union contract," said Vireo Cultivator Matt Denten. "I'm proud to be working in the medical cannabis industry and know that my work is helping patients live meaningful lives. My coworkers and I all agreed that we wanted to be represented by Local 338 to make sure that we were protected as workers and had good benefits and wages."
[aesop_quote type="pull" background="#ffffff" text="#808080″ width="30%" align="left" size="1″ quote="This agreement provides these dedicated workers peace of mind that will allow them to focus on what matters most: helping those who are suffering and creating quality medicine." cite="- RWDSU Local 338 President John Durso" parallax="on" direction="left"]
"The strong union contract approved by the workers at Vireo will ensure that they have secure, middle class jobs so that they can provide for themselves and their families," said RWDSU Local 338 President John Durso. "This agreement provides these dedicated workers peace of mind that will allow them to focus on what matters most: helping those who are suffering and creating quality medicine."
RWDSU Local 338 was at the forefront of the medical marijuana movement in New York state, working with legislators to craft legislation that would help patients and protect workers in the new industry. A bill legalizing the production and sale of marijuana for medical purposes was signed into law in New York in 2014, and in part due to the efforts of Local 338, the medical marijuana companies were required to have labor peace agreements where they wouldn't interfere with workers' efforts to join a union.
August 19, 2016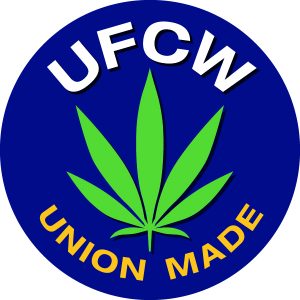 Perma, a recreational cannabis producer-processer in Tacoma, Wash., is proudly declaring that their products are union made with a new a UFCW label. The workers at Perma are members of UFCW Local 367, and made history in June of this year as the first recreational cannabis producer-processor in Washington state to join a union. The UFCW union label will be attached to Perma's AK-47 and Gorilla Glu products.
"This label will help customers choose a quality product that is made by my hard-working coworkers with the quality of jobs we want in the state," said Janie Wallace, one of the processors at Perma. "My grandfather was a longshoreman and I'm proud to continue in the UFCW family in this emerging industry."
This label will be used nationwide as workers in the cannabis business choose to help level the playing field within the industry.
March 15, 2016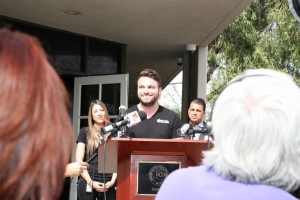 Workers at South Coast Safe Access in Santa Ana, California, recently ratified their first contract and joined UFCW Local 324. These 20 workers are the first Orange County cannabis workers to form a union, and are helping set higher standards for the California cannabis industry.
"South Coast Safe Access is a model for what can be achieved when a business owner has a sincere desire to do right by his employees and the community where he does business," said UFCW Local 324 President Greg Conger.
The workers announced their decision at a press conference attended by Representative Loretta Sanchez (D-Santa Ana). "It's time for public policy that will allow safe access for medical marijuana patients while protecting our neighborhoods," said Sanchez. "Let's protect workers and consumers in an industry that will continue to grow and become a larger part of California's economy and prosperity."
"If anybody working in a cannabis dispensary anywhere in the state believes he or she will get a fraction of that without a union, they have to be smoking something a lot stronger than pot," said Conger, describing the newly union members as a "natural fit" for Local 324's strong history of improving lives for both retail and healthcare workers.