News and Updates

Resources
September 3, 2019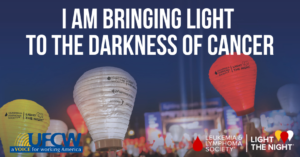 The UFCW has been a proud partner of the Leukemia & Lymphoma Society (LLS) for decades, supporting the work of the world's largest voluntary health agency dedicated to discovering breakthrough therapies and cures for people suffering from blood cancers.
In the past 37 years, our union has raised over $86 million for people suffering from blood cancers like leukemia, lymphoma, Hodgkin's disease, and myeloma. One of the key ways many of our members raise critical funds to support advances in blood cancer treatments is through LLS's Light the Night walks, which will occur at locations across the country starting in September.
"We all know someone who's been impacted by blood cancer," said UFCW Local 663 President Matt Utecht. "Together, we have the power to bring us closer to ending cancer. Participating in your local Light the Night event is a great way to continue our efforts as a union family to care for our communities. I encourage each and every local to get involved."
Kenny Newsom, a UFCW Local 1059 member who works nights as a building maintenance electrician at the General Mills plant in Wellston, Ohio, has been setting aside time during the day to use his carpentry skills to build furniture that he donates for the yearly UFCW Local 1059 auction to benefit his local's Light the Night event.
"It's been four years now," said Newsom. "One year, I was making an Ohio State table – it's got the block "O" and buckeye leaf and all that in it. My union rep. stopped by one day while I was working on it in my workshop and I said, 'Hey, would Randy (the President of Local 1059) like to have this to auction off for Light the Night?' And that's how it got started."
"Supporting LLS is close to my heart as I lost my stepfather to lymphoma," said UFCW Local 1189 President Jennifer Christensen.  "There wasn't a cure for his cancer, but through the efforts of my union – the UFCW – and their fundraising efforts and the research work that LLS does and has done, we have found cures for others. LLS continues to save lives every day.  People like my friend Dean Nelson, a member of our Union's Executive Board (and my coworker when I worked in the grocery stores) is alive today because of the miracles achieved through research, and the discovery of his life-saving medication."
You can find information about a LLS Light the Night walk near you, register your local's Light the Night team or set up your own team of walkers here.
May 13, 2019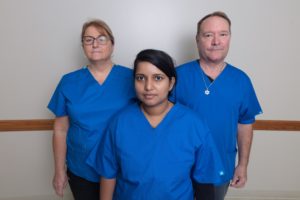 Our union has a proud history of keeping members safe and healthy at work. As we build on this legacy, the International's Occupational Safety and Health (OSH) Office is working with locals that represent members in the health care sector to further strengthen workplace safety.
Health care workers make incredible sacrifices every day to provide care for those in need and are more likely than other workers to face violence in the workplace. As more workers in the health care sector join our union family, protecting these hard-working women and men at work is a key priority.
Robyn Robbins, the director of the OSH Office, recently met with UFCW Local 1625 members who work at Lakeland Regional Medical Center in Lakeland, Fla., to help strengthen their workplace safety policies and procedures.
After meeting with workers and listening to their concerns, Robbins made recommendations to build on existing protections and find additional ways to keep our members safe. She recommended creating a joint labor-management workplace safety committee that includes workers and representatives from the local. She also suggested that the center review all its training policies and procedures to strengthen workplace safety and evaluate them for effectiveness.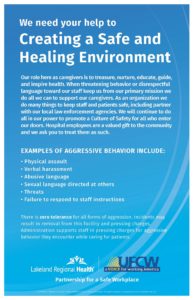 UFCW Local 1625 President Ed Chambers put these recommendations into action and achieved positive results, including better training and education, improved reporting procedures, and improved communication by the hospital to the public about the importance of creating a safe work environment for caregivers, hospital staff, and the patients and families they serve.
"The reaction from our health care membership has been incredible since we took the lead in workplace safety," said Chambers. "I'd like to thank the OSH Office for their help and direction. We knew the issues, and Robyn helped us design a remedy and our membership took the ball and ran with it. Now, we have posters throughout the hospital emphasizing the importance of a safe workplace with the UFCW logo on it."
In addition to helping locals improve or create workplace violence prevention policies and programs, the OSH Office is also supporting the Workplace Violence Prevention for Health Care and Social Service Workers Act (H.R. 1309), which was introduced by Representative Joe Courtney (D-Conn.) to protect workers from violence on the job. This legislation would require the Occupational Safety and Health Administration to issue a clear standard for workplace safety and violence prevention, requiring employers in the health care and social service sectors to develop and implement a plan to protect their employees and keep them safe. For more information, contact Robyn Robbins at rrobbins@ufcw.org or Fernando Tapia at ftapia@ufcw.org.
April 29, 2019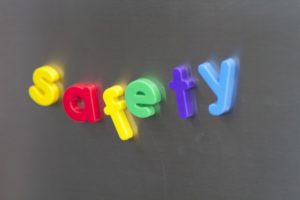 Protecting the safety and well-being of our members and their families is a core UFCW value and our reach extends beyond the workplace. To keep our members and their families safe, the UFCW has partnered with the National Child Identification Program to provide free child ID kits so that our members have a way to store information about their children and grandchildren in case of an emergency. Locals will receive more information in the next few weeks.
Every 40 seconds, a child is reported missing in the United States, which means that approximately 800,000 children are reported missing each year. When a child goes missing, family members and friends have to gather crucial information, including copies of the child's fingerprints, when time is of the essence.
These child ID kits, which include a card that has a space for a child's fingerprints, as well as a current photograph and other descriptive information, will allow our members to gather vital information about their children and grandchildren before an emergency. If a child goes missing, this ID card is readily available to assist law enforcement officials, who can scan the child's fingerprints into a national database to help quickly locate them.
Let's keep our members and their families safe by being prepared. If you have any questions or need additional information, contact Erin Ward in the International's Communication Department at eward@ufcw.org.