May 13, 2019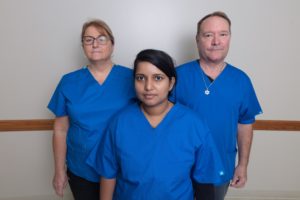 Our union has a proud history of keeping members safe and healthy at work. As we build on this legacy, the International's Occupational Safety and Health (OSH) Office is working with locals that represent members in the health care sector to further strengthen workplace safety.
Health care workers make incredible sacrifices every day to provide care for those in need and are more likely than other workers to face violence in the workplace. As more workers in the health care sector join our union family, protecting these hard-working women and men at work is a key priority.
Robyn Robbins, the director of the OSH Office, recently met with UFCW Local 1625 members who work at Lakeland Regional Medical Center in Lakeland, Fla., to help strengthen their workplace safety policies and procedures.
After meeting with workers and listening to their concerns, Robbins made recommendations to build on existing protections and find additional ways to keep our members safe. She recommended creating a joint labor-management workplace safety committee that includes workers and representatives from the local. She also suggested that the center review all its training policies and procedures to strengthen workplace safety and evaluate them for effectiveness.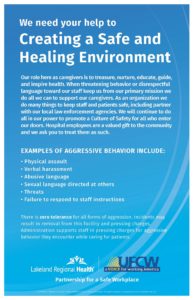 UFCW Local 1625 President Ed Chambers put these recommendations into action and achieved positive results, including better training and education, improved reporting procedures, and improved communication by the hospital to the public about the importance of creating a safe work environment for caregivers, hospital staff, and the patients and families they serve.
"The reaction from our health care membership has been incredible since we took the lead in workplace safety," said Chambers. "I'd like to thank the OSH Office for their help and direction. We knew the issues, and Robyn helped us design a remedy and our membership took the ball and ran with it. Now, we have posters throughout the hospital emphasizing the importance of a safe workplace with the UFCW logo on it."
In addition to helping locals improve or create workplace violence prevention policies and programs, the OSH Office is also supporting the Workplace Violence Prevention for Health Care and Social Service Workers Act (H.R. 1309), which was introduced by Representative Joe Courtney (D-Conn.) to protect workers from violence on the job. This legislation would require the Occupational Safety and Health Administration to issue a clear standard for workplace safety and violence prevention, requiring employers in the health care and social service sectors to develop and implement a plan to protect their employees and keep them safe. For more information, contact Robyn Robbins at rrobbins@ufcw.org or Fernando Tapia at ftapia@ufcw.org.