News and Updates

Food Access
November 1, 2016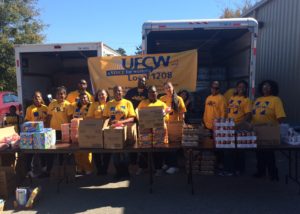 Last month, UFCW Local 1208 partnered with United Way of Robeson County to distribute much needed food to members across southern North Carolina and northern South Carolina who are still struggling to recover from the devastating effects of Hurricane Matthew. The event, which was held at the Family Dollar in Lumberton, provided assistance to over 150 workers and their families. Members of UFCW Local 204, along with the Second Harvest Food Bank of Southeast North Carolina and corporate partners like Kroger and Kellogg's, also donated items to help Local 1208 members and their families.
Stephanie Franklin, a member of Local 1208 who has worked at Smithfield Foods in Tar Heel for more than 11 years and lives in Lumberton, was one of the recipients.
"The whole area was affected by Hurricane Matthew," Franklin said. "I've lived in North Carolina my whole life, and this was one of the worst storms I've seen. My son is four years old, and we were stuck in our trailer for two days during the storm and we didn't have enough food or water. Our trailer is up high, but the bathroom ceiling caved in a little bit and the water was still up to my waist."
"The relief effort meant a lot and shows that Local 1208 is there for you. I appreciate everything they gave me and my son," Franklin said. "We're slowly getting back to normal."
"Hurricane Matthew brought incredible hardship to our friends and neighbors, and it is times like these that we must come together to help those in need" said Ella Ellerbe, who has worked in packaging at Smithfield for ten years. "Our union family, working with our partners, are proud to help our local members and their families get the food assistance they need. We're committed to doing all that we can to help our members recover from this storm because no hard-working family should ever have to struggle alone."
UFCW Local 1208 worked with Smithfield Foods to ensure that everyone at the plant in Tar Heel received a full week's pay when Hurricane Matthew struck, regardless of actual time on the job. Members of Local 1208 have contributed more than $10,000 to United Way of Robeson County to help their community recover from Hurricane Matthew.
June 1, 2016
This year, UFCW members and locals played an active role in the Stamp Out Hunger food drive. The following photos are just a a fraction of the astounding donations of non-perishable food and time volunteered by UFCW folks in their communities. (Click to advance)
May 19, 2016
[aesop_image imgwidth="40%" img="http://demo.dev.ufcw.org/files/2016/05/Stamp-Out-Hunger.jpg" align="right" lightbox="on" captionposition="left"]
Last week, members of Congress from across the country, together with members of the UFCW, joined together to help launch the National Association of Letter Carriers' "Stamp Out Hunger" food drive.
"Stamp Out Hunger," the largest single-day food drive, invited Americans to leave food by their mailboxes on Saturday, May 14 for collection by their neighborhood letter carriers for delivery to local food pantries.
This year, the UFCW, as a national title sponsor, invited Congressional offices and members from both sides of the aisle to participate. Sen. Jeff Merkley (D-Ore.), Sen. Sherrod Brown (D-Ohio), Rep. Jan Schakowsky (D-Ill.), Rep. G.K. Butterfield (D-N.C.), Rep. Bobby Scott (D-Va.), Rep. Alma Adams (D-N.C.), and Rep. Marcia Fudge (D-Ohio) and their staff participated in helping us to promote this worthy cause.
UFCW Locals from all across the country also hosted their own events, making this year's food drive one of the biggest and best that anyone had ever seen.
UFCW members see the effects of hunger in America every single day. Every time someone has to turn back and put something away in one of our checkout lines because they don't have enough money, we feel for them. For millions of families, this year's food drive was a small, but important, step towards fixing that problem.
[aesop_image imgwidth="content" img="http://demo.dev.ufcw.org/files/2016/05/Stamp-Out-Hunger2.jpg" align="center" lightbox="on" captionposition="left"]