News and Updates

Meat Packing
May 20, 2019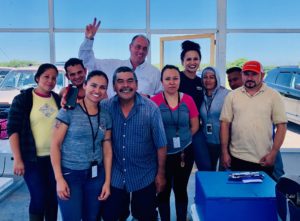 Members of UFCW Local 1625 who work at Florida Beef in Zolfo Springs, Fla., recently ratified a first contract that improves wages and benefits. The successful negotiations of their first contract comes less than a year after the workers joined UFCW Local 1625 in July 2018.
The three-year contract provides the 58 slaughterhouse workers with guaranteed raises starting with ratification, eligibility to participate in the company's health insurance plan, as well as six paid holidays and paid vacation. In addition, the company has agreed to make contributions to the 401(k) retirement plans for employees. The company will also provide work boots, gloves and knives at no cost to workers. This is the first slaughterhouse organized by UFCW Local 1625 and the first time these workers have had wage and benefit improvements.
April 8, 2019
UFCW Local 1445 played an instrumental role in supporting the Boston City Council's passage of the Good Food Purchasing Program on March 20. The program will transform the way public institutions, including Boston Public Schools, purchase food and put millions of dollars back into Boston's regional economy. This is the second time this year that our union has helped to pass a food justice policy. UFCW Local 75 helped to pass the Good Food Purchasing Program in Cincinnati on Jan. 28.
Boston's Good Food Purchasing Program encourages food suppliers to provide healthier food that is ethically produced, locally sourced and environmentally friendly. The policy also protects workers' rights to organize a union free from intimidation and helps ensure that farmers receive a fair price for the fresh food they produce.
UFCW Local 1445 was part of a community-based coalition that included other unions, as well as faith, policy and student groups, and environmental and animal welfare organizations, which advocated for the program.
"We commend the City of Boston for passing the Good Food Purchasing Policy, which includes fair labor standards," said UFCW Local 1445 Political Director Jim Carvalho. "The city took a strong step towards providing strong incentives for food companies receiving taxpayer dollars to pay their workers a living wage, provide strong protections against workplace hazards, and otherwise move towards adopting more sustainable food production practices in a manner that bolsters our local economy."