News and Updates

Uncategorized
May 6, 2019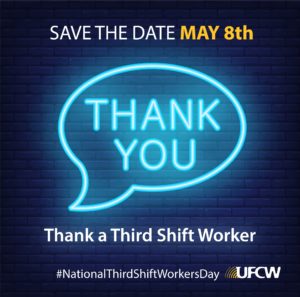 On Wednesday, May 8, we will celebrate National Third Shift Workers Day to honor all of our members who work late and sacrifice sleep to provide for their families and serve their communities across the country.
Whether it's working through the night to prepare fresh food for the morning, restocking store shelves, or taking care of our loved ones in the hospital, the hard-working men and women of the UFCW who work the third shift provide an incredible value that too often goes unnoticed or is taken for granted.
For many members, working the third shift allows them to make time to further their education and make scheduling easier for family or child care. One of those hard-working night owls focused on going to school is Kathy of UFCW Local 1428 in Southern California, who worked nights so she could get her master's degree. Her coworker, Sharon, also reminds us that many dedicated employees build their careers working nights – she's spent the past 35 years as a third shifter. The stability of third shift work allowed her to balance work and family responsibilities. Read more about their story here.
The UFCW is proud to negotiate premium pay for third shift workers to help provide them with the better life they've earned and deserve. If your local is hosting an event for National Third Shift Workers Day, please share that information, along with photos, with Julie Anderson at janderson@ufcw.org.