News and Updates

immigration
February 16, 2017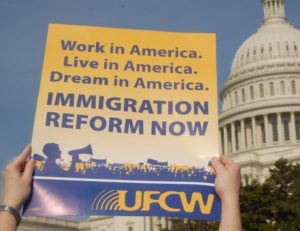 On Feb. 16, UFCW International President Marc Perrone issued a statement in response to the thousands of employees and employers across the country who stood together during "A Day Without Immigrants" to call attention to the vital role immigrants play in every community.
"Immigrants make incredible contributions to our lives, communities, and country each day. Today, we are asking Americans to honor that contribution and pay attention to what is at stake.
"From the beginning of this nation, immigrant workers from all over the world have come to this country to work hard and build a better life. Yet, many workers, and many UFCW members continue to suffer from the effects of our broken immigration system.
"Our union family has seen firsthand the damage that irresponsible employers can cause through exploitative labor practices that hurt immigrants, and drive down wages, benefits and working conditions for all workers. It is time for Congressional leaders to finally see and hear the calls for change and put forth common-sense immigration reform that will end this crisis."