August 9, 2012
This summer, two young women from Local 400 gave up some time in the sun to learn more about something close to their hearts- union leadership.
To do so, Brittany Metts, 20, from Safeway #1276 and Stephanie Pryor, 29, from Giant #326, attended  the 37th United Association for Labor Education (UALE) Northeast Summer School for Union Women in Amherst, Massachusetts. 
Metts and Pryor were chosen to attend the Summer School because they have been active Local 400 members throughout the community, attending rallies, meetings and events- helping to give the younger members of Local 400 a voice. 
"For Local 400, engaging the young membership has always been key, with the average age of our membership being 24-years-old," said Local 400 president Tom McNutt. "Brittany and Stephanie have shown great potential participating in actions around Giant and Safeway negotiations. The UALE Summer School is a great avenue for them to acquire additional skills to provide the best possible support for the youth of Local 400 today and to be able to assume a greater leadership tomorrow."  
The leadership courses Metts and Pryor enrolled in were focused on developing skills regarding collective bargaining, labor law, grievance handling, public speaking, organizing, safety and health, and mobilizing for political and legislative activity. 
Metts' favorite class was leadership, where she learned the importance of listening, identifying situations and obstacles when in a leadership role, and communicating effectively. The biggest accomplishment she had while at UALE was gaining more confidence in herself as a leader.
Metts also offered some suggestions of her own to her union sisters in the room, who were struggling with reaching out to the younger union members: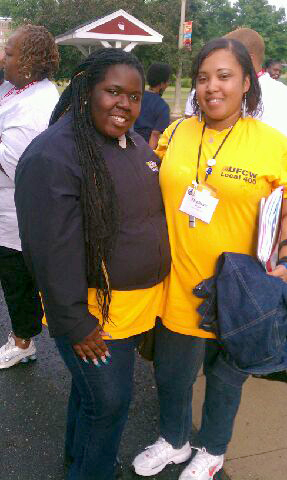 Brittany Metts and Stephanie Pryor
"It's all about being personable and telling your story," she said. "You can't put an age on maturity. Yes, I'm only 20 but I have gone through some experiences that say a 40-year-old just experienced," Metts added. "We as humans, as women, have a lot more in common than you think, if you just take the time to listen."
Some sage advice.
Pryor also weighed in, noting that, "it's important to have an open mind and just take a moment to talk with people around you in your stores."
Pryor's favorite class was collective bargaining, where the students participated in a mock negotiations exercise.
"We learned all the tactics management play and how to read their body language," she said. "Though I was lucky enough to be on the union side of the table during the exercise it was still tough knowing that the 'members' would be counting on you. It really opened my eyes to the pressures the leadership of our union faced at the bargaining table with Giant and Safeway recently."
Metts and Pryor hope to serve as leaders for the young adults in Local 400 and their communities, although it seems as if they have already made a difference among their peers. When they return, they plan to put their new skills to work by leading a youth workshop for the members who are under the age of 35. The workshop will help generate a network of young Local 400 members to meet and discuss not only issues at work, but other challenges life has to offer as well.
"We want to engage the young members and grow the network so they can be the voice of young workers at rallies, events and most importantly inside their facilities," said Metts
Metts and Pryor would also like to close the gap that sometimes exists between the older and younger generation of workers.
"We want both generations to understand that there are so many mentors around you and stepping outside of your comfort zone is a good thing," explained Metts. "We all are in this family, we are all union brothers and sisters and regardless of age, we need to stick together."
"It's terrific that our union sisters Brittany and Stephanie are taking the initiative and reaching out to the younger membership," McNutt said. "After all, they are the future of the labor movement, they are the future of Local 400, so educating members on where the labor movement has been and where it's going is essential."