October 10, 2017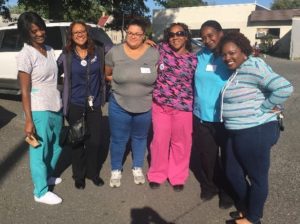 On Sept. 29, 90 workers at Delmar Nursing and Rehabilitation Center in Delmar, Delaware, voted to join UFCW Local 27 by an overwhelming margin. The unit consists of all full-time and part-time Certified Nursing Assistants, as well as dietary, housekeeping, laundry, maintenance and PRN employees.
The workers were concerned about not receiving any raises over the last several years, unfair treatment by management, not having a voice on the job, understaffing, and questionable PTO calculations. Even though the company hired union busters and tried to intimidate some workers using fear tactics, the workers stood strong and formed a powerful organizing committee.
Three Certified Nursing Assistants at Delmar Nursing and Rehabilitation Center expressed how grateful they were to have union representation.
"It feels awesome to have Local 27 be our representatives. We all feel like it will make a positive difference here at work. We're now ready for the next step, which is to get a contract that we're happy with," said Tierra Griffith.
"It was a great learning experience for us. Thank God that we stood together in unity so that our voices will now be heard," said Quayshetta Hopkins.
"All the work that we put in to form a union here at work was worth it; now, it's time to get a great contract that we can be proud of," said Latroya Robinson.
"The workers' organizing committee worked hand-in-hand with Local 27's organizing team, and they educated and inoculated their coworkers," said Nelson Hill, UFCW Local 27 vice president and director of organizing. "I could not be happier with their efforts and the results of the election. We look forward to successful negotiations, which will translate to a brighter future for the workers there."
"I'd like to thank and congratulate Nelson Hill and UFCW Local 27's entire organizing team for all of their hard work in obtaining this great victory for the health care professionals working at Delmar Nursing and Rehab," said UFCW Local 27 President Jason Chorpenning. "These hard- working men and women have dedicated their lives to caring for those in need, and now for the first time can enjoy the benefits and stability of a union contract. It's sad to see so many people in this day and age going three to five years without wage increases, as well as having to endure the lack of dignity and constant disrespect from management. I am proud to welcome them into our union family and look forward to working hard to provide them with the best possible union contract we can get them. We will be negotiating to increase pay, improve their working conditions, provide job protection, and guarantee a future for all of these hard-working folks and their families."