October 23, 2017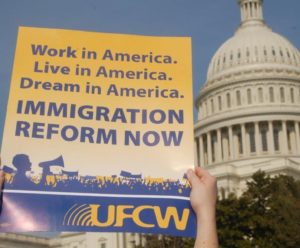 On Oct. 23, the UFCW joined the National Association for the Advancement of Colored People (NAACP) and the American Federation of Teachers (AFT) in a lawsuit against President Trump, Attorney General Jeff Sessions, Homeland Security Secretary Elaine Duke, U.S. Citizenship and Immigration Services, U.S. Immigration and Customs Enforcement, and the Department of Homeland Security in response to the Trump administration's termination of the Deferred Action for Childhood Arrivals (DACA) program.
The joint legal action makes clear that the Trump administration's decision to rescind DACA disregarded the due process rights of the DACA registrants, and failed to engage in the required analysis or rulemaking procedures required by the Regulatory Flexibility Act and the Administrative Procedure Act, both of which are laws put into place to safeguard the public against this very type of impulsiveness by leaders in powerful positions.
UFCW International President Marc Perrone issued the following statement about joining the lawsuit:
"While we support the effort to find a bipartisan solution to protect the rights of DACA recipients, ending DACA without regard to due process or proper rulemaking is not only a betrayal of the 800,000 individuals who have always and only called the United States their home, it needlessly jeopardizes the rights and procedures that protect every American citizen.  
"No matter one's politics or the administration, every person in this country deserves due process. Moreover, our government can't function without adhering to certain rules and procedures. Ignoring them jeopardizes the rights and freedoms of us all. 
"With respect to DACA recipients, these young men and women love this country, and it is their home. They work side by side with us, live in our communities, and are dedicated members of our union family and countless others. They, like all of us, want nothing more than to build a better life for themselves and their families.
"The legal action we have taken with the NAACP and AFT is critical to protecting and ensuring the rights and freedoms of DACA recipients, and every person who calls this nation their home."