January 2, 2018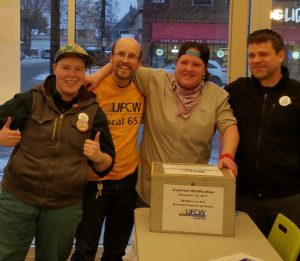 Members of UFCW Local 653 who work at Eastside Food Co-op in Minneapolis ratified their first union contract on Dec. 14. The three-year contract includes raises for all employees and establishes a just cause discipline procedure. The Eastside Food Co-op employees voted to join UFCW Local 653 last April.
Eastside Co-op workers were excited about their first union contract.
"With this agreement, we won a stronger voice in the everyday conditions that impact our work environment and our experience working at Eastside—more equitable wages, adequate staffing and training, and timely addressing labor and safety concerns," ​said Seth Kuhl-Stennes.
"I'm excited that we're going to be paid based on our experience, our knowledge and the time we've been working here making Eastside successful," ​said D.K. Prince.
"I know that we're leaving a better co-op for future employees and for the community. I think it's important to work at a place that values workers' voices," ​ said M.J. Banken.
Community support for Eastside Food Co-op workers has been steady throughout the bargaining process. "As a longtime member of Eastside Food Co-op, a former EFC board member, and a union member, I am very excited that the workers here will be ratifying their first contract.  The success of our co-op is due in large part to the workers' dedication and hard work, and this contract will ensure that they are treated fairly and with respect.  This is truly co-op values in action," ​said Joy Anderson.
"I am inspired by the Eastside Food Co-op workers courage to stand up," said UFCW Local 653 President Matt Utecht. "Our union family is proud to help everyone at Eastside to improve their workplace and raise standards for all retail workers in Minnesota."