March 5, 2018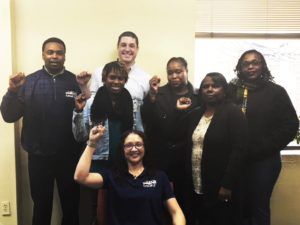 On Feb. 8, 80 workers from the Berlin Nursing and Rehabilitation Center in Berlin, Maryland, joined UFCW Local 27. The unit consists of certified nursing assistants, as well as dietary employees.
The workers were concerned about low wages, insufficient benefits, and not having a voice in the workplace. They were united in their belief that joining our union family will lead to a better life.
"After being there for some time, I realize that nothing was going to change unless we did something about it," said Tammy Timmons. "I think that having a union is the change we need."
"Something needed to be done," said Genell Fontaine. "If we didn't do it, the company wouldn't either."
"We needed a union," said Danica Alexandre. "We needed better wages, better working conditions, and respect we deserve on the job."
"I felt having a union is the best way to get what we want: better wages, better health care, better working conditions, and better treatment on the job," said Erica Nelson.
"This victory was a very good win for these hard-working workers at Berlin Nursing and Rehabilitation Center, and they voted to join our union by over a two to one margin," said UFCW Local 27 President Jason Chorpenning. "Our organizers worked very hard and the vote showed it. It was an amazing show of solidarity by the workers. As these new members stand together, Local 27 will help them change their lives for the better. I want to welcome our new sisters and brothers to our family at Local 27."