March 5, 2018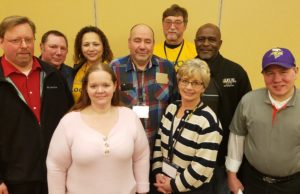 On Feb. 25, 1,600 members of UFCW Local 653 who work at Jerry's Enterprises, Inc. grocery stores in Minneapolis and nearby suburbs ratified a new three-year contract that includes better wages and benefits. Jerry's Enterprises operates 13 Cub Foods, two Jerry's Foods, and Richfield Rainbow Foods stores.
Melanie Millner, a deli manager at Minneapolis Lake Street Jerry's Cub said, "I'm proud of the working relationship we have as a union with Jerry's. I'm excited to see the results of higher wages with my coworkers. I know it will bring better morale and retention in our stores and it is going to make a difference in families' wallets."
Both part-time and full-time workers at Jerry's will receive raises each year of the contract.
The contract improves the quality of part-time positions, and includes increased take home pay, as well as three weeks paid vacation after eight years, six national holidays, bereavement leave, jury duty, and ancillary benefits that include dental, vision, life, and accidental death and dismemberment insurance.
Workers will also enjoy a secured employer commitment to pay the increased true cost of the Health & Welfare plan.
"The Health & Welfare we negotiated is a substantial savings to our families, especially the way health insurance costs are rising nowadays," said Bill Jensen, a meat cutter at Elk River Cub Foods.
Employers will contribute a union negotiated rate into a 401(k) for eligible employees. These include full-time contributions from $2 to $4 and part-time is $1.35 an hour. UFCW Local 653 has also secured two plan trustees.
Workers will enjoy improved treatment and worker protections in the workplace with new and improved contract language that addresses respect and dignity in the workplace, bereavement leave for domestic partners, victim, witness, and domestic abuse leave, student seniority, and automation language that gives notice to employees and training opportunities if any technology will be implemented in the store.
"I'm really happy that language around respect and dignity is now a part of our agreement. Hard working families come first, and I'm glad that language reflects our shared values," said Nate McClerin, part-time Deli worker at West Broadway Cub Foods.
"I'm proud our members with Jerry's voted yes to building better lives for themselves and their families. A sincere thank you to our union bargaining committee who worked together with Jerry's. Together with the recent Lunds & Byerlys contract, we continue to improve the quality of life for working families in Minnesota," said UFCW Local 653 President Matt Utecht.