April 1, 2019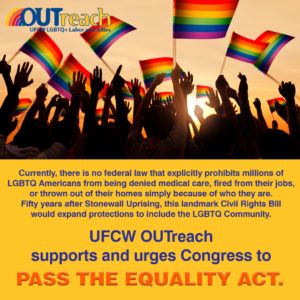 On March 19, the UFCW OUTreach board voted to formally endorse the Equality Act, a new bipartisan bill that would strengthen protections for workers and families across the country and help to end discrimination that has impacted so many communities.
Every American deserves the freedom and opportunity to earn a living and build a better life for themselves and their family without facing discrimination. In a majority of states, LGBTQ Americans are still not fully protected from discrimination. While many states have strengthened protections for workers and families who are at risk, the current patchwork of laws leave many vulnerable to discrimination.
This bill would ensure that all Americans enjoy the full protection of the law and are not discriminated against when it comes to employment, housing and other public accommodations. In addition to bipartisan support in Congress, the bill has also been endorsed by a broad coalition of more than 160 leading American companies across the country.
"While our UFCW union contracts protect our LGBTQ members on the job, the lack of non-discrimination laws across our country leave them exposed to discrimination once they walk out of their workplace," said UFCW OUTreach Chair Michele Kessler, who is the Northcentral Division Director and Secretary-Treasurer at UFCW Local 1776KS. "It's time to get this law finally passed and we urge our UFCW family to help by contacting their members of Congress to support the Equality Act."
You can get more information about UFCW OUTreach here.