May 6, 2019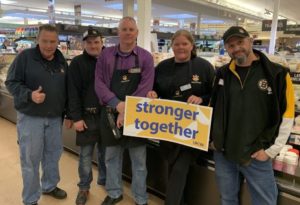 Across New England, 31,000 UFCW members at Stop & Shop grocery stores won a powerful victory by successfully approving strong new contracts following a historic 11-day walkout to protest cuts to health care, take-home pay, and other benefits.
Members of UFCW Locals 328, 371, 919, 1445 and 1459 in Massachusetts, Connecticut and Rhode Island ratified the new contracts by an overwhelming margin in votes held April 24 through May 1. The new agreements preserve health care and retirement benefits, provide wage increases, and maintain time-and-a-half pay on Sunday for current members.
Negotiations with Stop & Shop received national attention for being one of the most important work stoppages in the grocery industry in recent memory and a powerful win to protect good jobs.
UFCW Locals 328, 371, 919, 1445 and 1459 worked together throughout negotiations with the company and issued the following joint statement: "We are incredibly grateful to our customers and everyone who proudly stood together with us every day for a contract that invests in the communities we serve and makes Stop & Shop a better place to work and a better place to shop."
"It's exciting to be back to normal, but it's also exciting to know how much our community cares about good jobs," said Nicole, a UFCW member who works at Stop & Shop. "We're all a lot stronger now."