May 13, 2019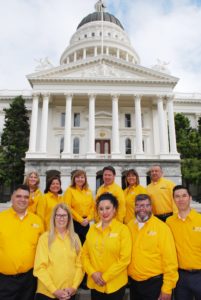 UFCW Local 1428 members recently lobbied California lawmakers in the state capitol in support of legislation that protects good jobs and helps workers. Our members urged legislators to support a wide range of bills, including:
• AB 1066 – Protects unemployment insurance for striking and locked-out workers;
• AB 1459 – Creates certification programs for grocery workers for jobs of the future;
• AB 1360 – Ensures that food delivery drivers are properly trained in food handling requirements that meet grocery store regulations to protect consumers; and
• SB 581 – Strengthens transparency in the cannabis licensing process.
California lawmakers who met with Local 1428 members and staff include State Senators Connie M. Leyva, Maria Elena Durazo and Bobby Archuleta, as well as Assembly Members James C. Ramos, Cottie Petri-Norris, Eloise Reyes, Blanca Rubio, Wendy Carrillo, Ian Calderon, Chris Holden, Miguel Santiago and Freddie Rodriguez.
"Our members help to get lawmakers elected, so when they travel to the state capitol to lobby for work-friendly legislation, those lawmakers take notice and listen since they usually just see corporate lobbyists," said UFCW Local 1428 President Mark Ramos. "Our members are powerful advocates and messengers for good legislation."