August 19, 2019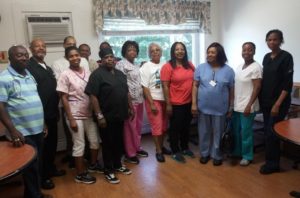 On July 26, workers at Mattapan Health and Rehabilitation Center in the Boston area unanimously voted to join UFCW Local 1445.
The 75 certified nursing assistants, licensed practical nurses, kitchen, dietary, aid, housekeeping, laundry, activities and maintenance workers joined our union family by a vote of 68 to 0. These workers came together because they were concerned about job security, lack of respect from new managers, and no pay raises for the last five years.
"Fairness in our workplace is the reason why we voted for the UFCW," said one of the Mattapan Health and Rehabilitation Center workers.