November 15, 2016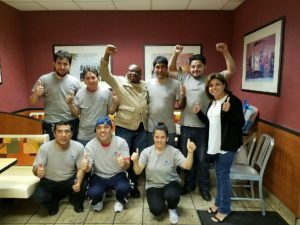 On Nov. 10, 15 maintenance workers employed at Colonnade Apartments in Newark, N.J., voted overwhelmingly to join RWDSU/UFCW Local 108.
The workers were concerned about low pay, health and safety issues, and the lack of retirement benefits. Workers were also concerned about being paid for all of the hours they worked.
"I am happy we voted the union in to represent us," said Pedro Parada, a porter at Colonnade Apartments. "We need someone to fight for our rights and to be there when we need help. The company has been doing whatever they want to us."
"I feel happy that we now have a union," said Elva Rodriguez, who works as a janitor at Colonnade Apartments. "I am thankful for them being there for us. I know they are going to help and care for us."
"This was truly a needed victory," said Abraham Asabor, an organizer with RWDSU/UFCW Local 108. "This small group of workers are expected to be Jack-of-all-trades. They not only keep the building clean, they are required to do building and apartment upkeep, painting, plumbing, AC and heating and apartment clean outs."
"They are required to be on call and they are not properly compensated," Asabor added. "To add insult to injury, they are treated with disrespect and paid low wages. This is the second building we have organized in the past month and the problems are similar. We will fight hard to make sure these workers receive better working conditions."
"Most importantly, these workers weren't being treated with any respect, and they wanted to change that," said RWDSU/UFCW Local 108 President Charles N. Hall, Jr.
November 7, 2016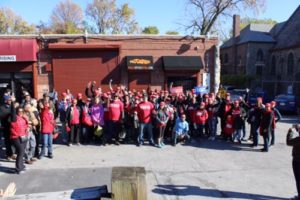 RWDSU/UFCW members traveled from New York City to Philadelphia to help get out the vote on Nov. 5. RWDSU/UFCW members reminded voters in the City of Brotherly Love that Election Day is Tuesday, November 8, and helped them find their polling places. The activists reminded voters about the importance of this election, and how crucial it is that workers have a president who shares their concerns in the White House.
You can watch a video about the get out the vote effort here.